The cutest ornaments you've ever seen, period.
Looking for a unique gift for coworkers or friends? These sisal holiday ornaments create an unexpected surprise and delight feel to gift giving. Our ornaments add a globally inspired decorative flair to your home decor or mantle decorations during the Holidays or just all year long! Each ornament is hand woven in Rwanda by skilled women artisans.
SPECS
Dimensions:
Hot Sauce: approx. 1.5" x 4"
Soy Sauce: approx. 2" x 4"
Kombucha: approx. 2" x 5"
Rose: approx. 1.5" x 4"
Beer: approx. 1.5" x 4"
Cactus: approx. 3" x 5"
Coral + Clay Nya- Set of 3
Desert Flower Nya- Set of 3
Made in Rwanda, Africa
Product is made from all natural fibers of raffia and sweetgrass
Profiled weaver tag is attached to each product
Customer Reviews
01/01/2021
Laura H.
United States
Beautiful!
These hand woven basket ornaments are exquisite! They are beautifully designed, incredible quality and have a great story. Shipping was super fast. Will definitely continue to support this company.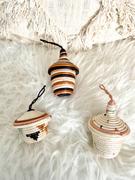 01/08/2021
Rough x Tumbled
We are so happy you love them! Thank you so much for the support! :)